This post brought to you by Moen, Incorporated. All opinions are 100% mine.
I've been trying to piece the new house together which has been a painfully slow work in progress. My problem is, I can easily make decisions for other people, but when it's for myself I have to exhaust every option. *Sigh,* my poor husband. 🙂
With that, I've been researching and checking out a lot of cool products. I know I want to eventually redo my kitchen which is dated 10+ years, and am thinking new counter tops (probably granite), new appliances (hopefully sooner than later…the dishwasher is practically broken!), and a new sink with a really cool faucet. My kitchen is just very standard, but adding these elements would make it look a lot better, plus increase the value to my home – overall a win, win!
I'll be getting stainless steel appliances which will hopefully update the look of my cabinets without having to redo those too, and want a matching faucet. My concern with stainless is usually the fingerprints, because that's something I think will seriously annoy me. Does anyone have a good solution for that?
Well, I actually found a pretty nice kitchen faucet by a great brand, Moen, which is fingerprint resistant! The Kiran Spot Resist one-handle pulldown kitchen faucet would definitely add a sleek, modern look to my kitchen, and I like the high arc design.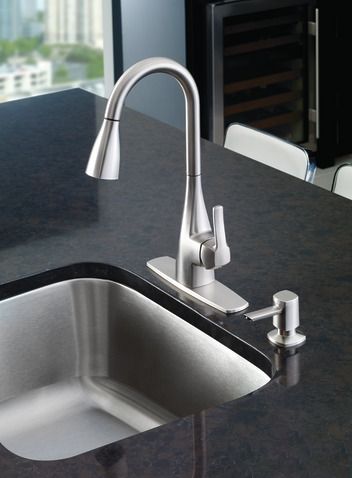 The features are pretty cool too.
Fingerprint and water spot resistant…yes!
Pulldown spout has 2 spray functions (aerated stream of a more powerful cleaning rinse with pause feature
Relex system – makes a smooth operation, easy movement, and secure docking
Not too shabby! Plus, the Kiran Spot Resist one-handle pulldown kitchen faucet can easily be purchased at Lowe's. Make sure to checkout Moen on FB and @Moen on Twitter for more info and options.
How would you upgrade your kitchen, and how do you combat fingerprints/water spots on stainless steel?